20FT With A Cooling Tower Built-in
JZX-20-560 Immersion Liquid Cooling Container
Specifications:      560KW I 112 Rack space for Antminer S19
Shipping Date: Delivery within 45 days after payment
Payment Method:USD I USDT I USDC
Almost mute
With miners completely immersed in cooling liquid, noise is extremely low. Liquid cooling greatly decreases noise in comparison with air cooling.
Effective overclocking
Some miners can get a 40%-60% overclocking.
Easy installation
Modular design and assembled deployment highly shorten the circle of implementation, increasing installation efficiency. Also, both sea freight and land transportation are easy.
Waste heat recycling
90% heat energy from miners can be recycled in an efficient manner with the help of waste heat recovery technology, like supplying heat for your houses or swimming pool, or hot water supply, or making profits by heat supply, etc.
Product Advantages
Product Composition
Convenience
Specifications
Product Advantages
Safe and high-efficient heat exchange
With a close cooling tower built in, 20ft container works effectively and reliably in heat dissipation and saves water. The high-quality circulation pump decreases failures, making sure the equipment  operates in a good manner. No need of a heat exchanger means cooling fluid enters the cooling system directly to dissipate heat. Therefore, there is no heat exchange loss in the second-time heat exchange.
Easy operation
Module design makes cooling pools independent in control. There is a man-machine interaction interface on the container, so it's easy for users to conduct remote monitoring by downloading an app in cellphone.
Cost saving
Integrated design means a complete cooling system is integrated into the container, thus there is no need of extra money for construction. The container can be put into use once it gets power and water. Such a solution helps customers save time and labor cost.
Water saving
The customized close counter-flow cooling tower can reduce the drifting ratio to be less than 0.01%, saving water. Compared with the FRP cooling tower, our stainless water tower is more durable and environmentally-friendly.
Easy transportation and deployment
The 20ft container is a 20ft GP with certificate of classification, making it easy, quick and convenient in transit, deployment and transfer. When some unexpected factors occur, such as hosting fee increasing, power fee going up, market downturn and policy changes, users are able to move it to other sites quickly.
Stable overclocking
Immersion design offers a much stabler overclocking environment for miners, boosting mining efficiency.
Durability
The 20ft container is made of stainless under joined and welded process, assuring stable operation, anti-corrosion and no oil leakage. The caps on the cooling pools stop cooling fluid from splashing.
Product Composition
Convenience
Specifications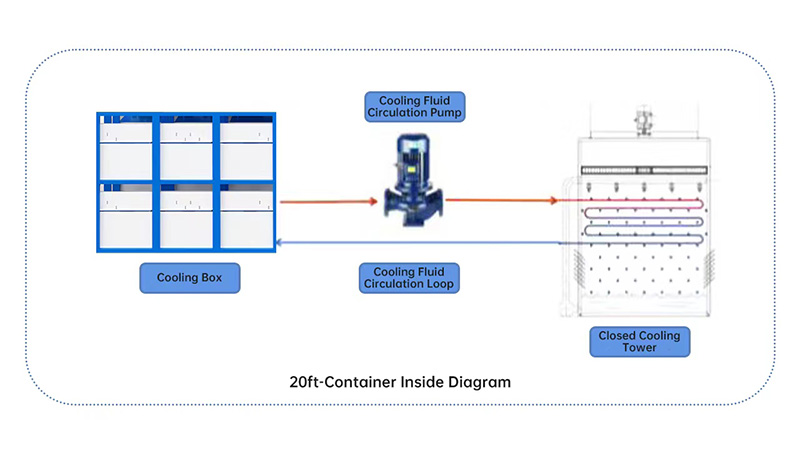 Get to know Box Technology data center solutions
Good performance and high cost performance