June 19 was an ordinary day for ordinary people and a dark day for crypto investors. Bitcoin's slump has affected many people, including several on the Bloomberg Billionaires List. Their worth plummeted, and their wealth evaporated. As of July 7, the price of Bitcoin is slowly recovering. It is also a good thing.
Crypto Plunge Leaves Wealthy with Heavy Losses
The crypto price crash on June 19 cost the seven crypto-related billionaires a combined $114 billion.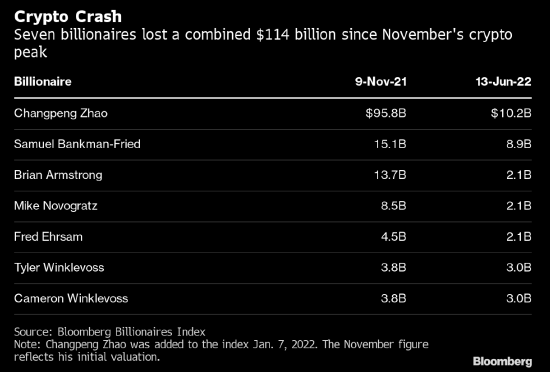 As Bitcoin continued to plummet, Changpeng Zhao, the founder of the world's largest crypto exchange, Binance, lost nearly 89.3% of his wealth, evaporating $85.6 billion.
Sam Bankman-Fried, the 30-year-old CEO of crypto exchange FTX, has lost 66 percent of his assets since their peak, leaving him with just $8.9 billion.
Coinbase founder Brian Armstrong has also shrunk by 85%, leaving him with just $2.1 billion.
Gemini Exchange's twin brothers, Cameron and Tyler Winklevoss, also fell from their respective top values of $5.9 billion to $3 billion.
Mike Novogratz of Fortress Investment Group Fund saw his assets drop to $2.1 billion, down from where they were when he first entered the Bloomberg Billionaires Index.
Fred Ehrsam, co-founder of the Coinbase exchange, also saw his fortune shrink to $2.1 billion.
MicroStrategy CEO Michael Saylor owns 2.36 million shares that were supposed to be worth $3 billion and are now down 88%.
Bitcoin Price Recovers
According to the latest data, bitcoin has been on a clear upward trend in the recent past. In particular, it has been moving higher since Thursday, reaching its highest level in more than a week. It seems to be telling us that the bitcoin market is improving.
The stock market is also taking a turn for the better. In the late U.S. stock market session, Bitcoin broke through $21,000 for the first time this month, reaching above $21,500. Ethereum rose as high as $1,253 at one point.
Crypto-related stocks also staged a stunning rally before the close. Coinbase (COIN.US) rose more than 11%, and Riot Blockchain (RIOT.US) rose more than 16%, directly hitting the highest intraday gain since June 21.
However, Ben McMillan, chief investment officer at IDX Digital Assets, said that "With risk assets rising across the board due to the latest data on initial jobless claims, it's not surprising that crypto prices are rising." This seems to indicate that the situation is still not optimistic.
The short-term rise in bitcoin prices still doesn't seem to be giving crypto investors confidence. There are too many investors suggesting that this seems to be a normal phenomenon. What will happen next is unknown.
This content information comes from finance.sina.com.cn.